Brittany Ferries operate cruise ferries to France in the Western Channel. Each vessel in the fleet is a well appointed luxury ferry (read a review of one of their ships) with a full range of facilities and a choice of eateries. It was a surprise to learn that since my last crossing with them they have introduced a budget crossing known as Brittany Ferries Économie.
Brittany Ferries use The Etretat on the Portsmouth-Havre crossing. So how "no frills" is the Économie service on the Etretat? Would I be travelling on a freighter with just a nod to fare paying passengers?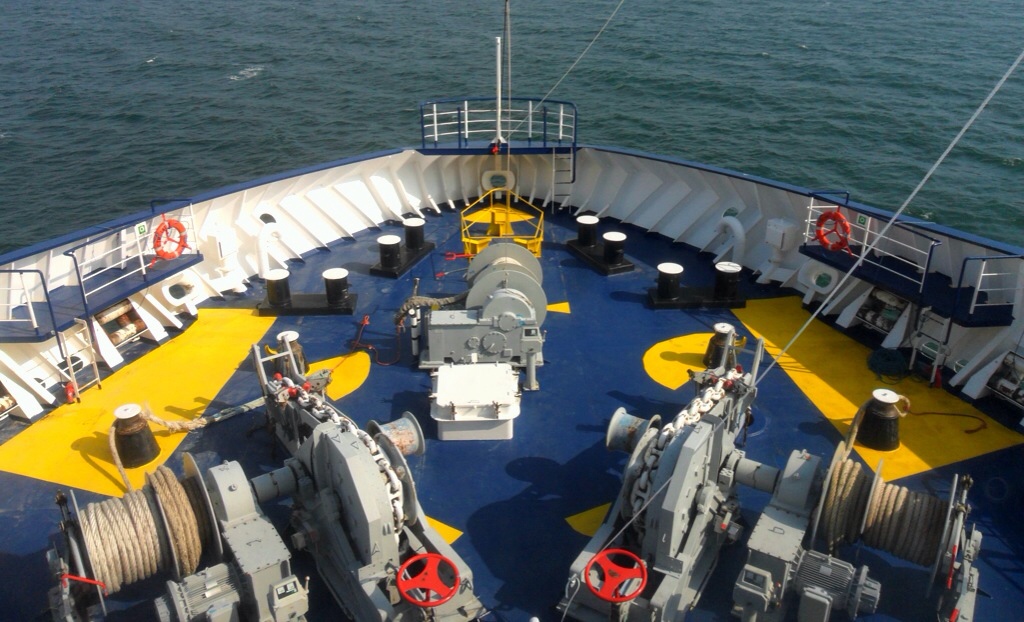 I sailed on the Portsmouth to Le Havre route which operates Thursday to Sunday The crossing takes five and a half hours and departs Portsmouth at 12:00 midday. The return is an overnight crossing and takes a little longer. The same vessel is used on the Portsmouth-Santander route when not sailing to Le Havre.
Check-in at Portsmouth was smooth with the usually friendly Brittany Ferries staff making me feel welcome before I had even boarded the ship. Almost immediately boarding commenced and I was surprised to be directed to an open deck as I have always travelled on the inside of ferries to France safe from the elements. This might be a bit of an issue in rough weather as salt water spray and vehicle bodywork do not mix well.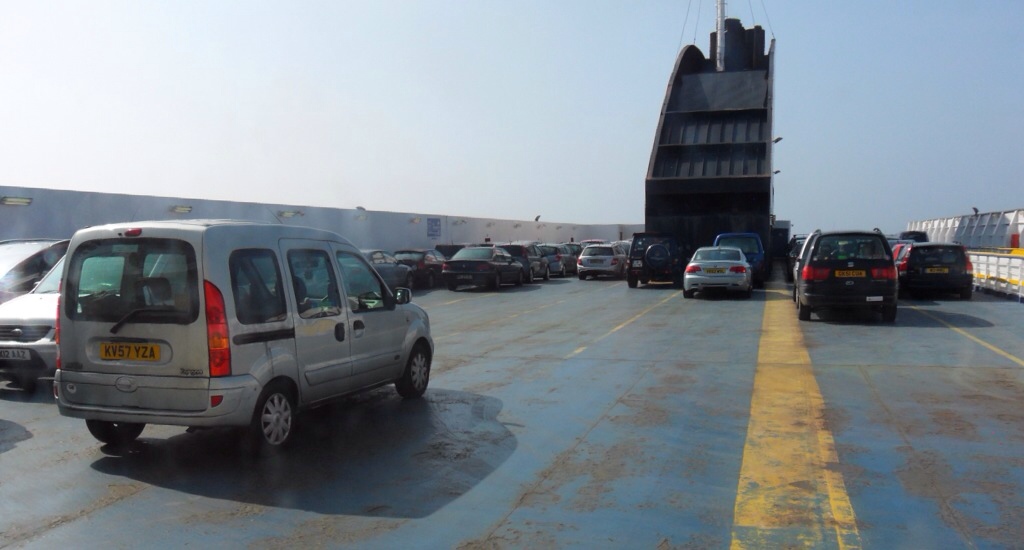 Instead of the utilitarian decor I had expected the interior was all glass, chrome, faux wood and a marble style floor. It was a modern maritime theme with curved lines and wave patterns on many of the glass panels. Seating was mostly faux leather whether it was the chairs at tables, couches along the walls or the paid for lounge chairs.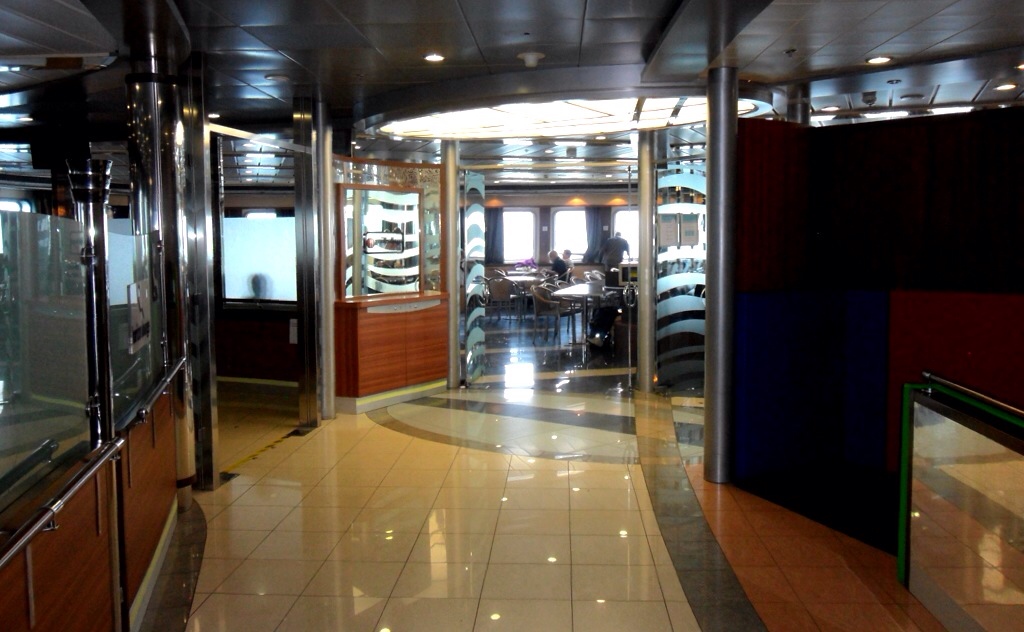 Although you get the same excellent service from the staff on board it is in the facilities available where the economy experience is most notable. There is a single self-service restaurant with a limited choice on the menu and only one bar.
The Etretat 's duty free shop is small by any standard. Anymore than two people shopping and it is crowded. There is a small cinema and two lounges where for £5 you can use one of the reclining lounge seats. There is a seating area in front of the bar and another adjacent to the restaurant; both are basic table and chairs seating with couches along the walls. There is a small soft play area for children.
The only way to get foreign currency on board is to use the ATM, which I discovered was experiencing a technical malfunction on the day I was crossing. Make sure you change your money before you leave home or you could end up with no cash when you arrive in France.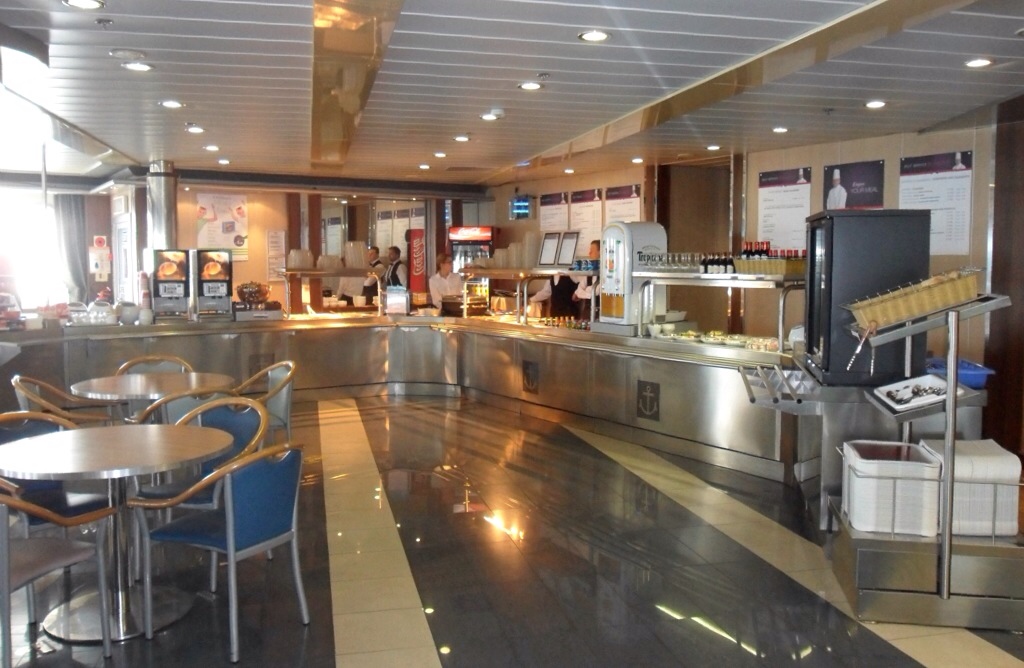 Although it is small the self-service restaurant has a good, though limited selection of food and drink. The "economie" concept does not extend to the quality of the food which was great. For main course there was a choice of two fish dishes, a vegetarian option and three meat dishes. Snacks are available from the bar and from vending machines. The latter also dispensed hot or cold drinks.
Like the "no frills" airlines you can purchase extra comforts. Basic cabins (ensuite but not carpeted) for four people can be booked or purchased on board or online when booking your ticket. Reclining seats in one of the two lounges are also available.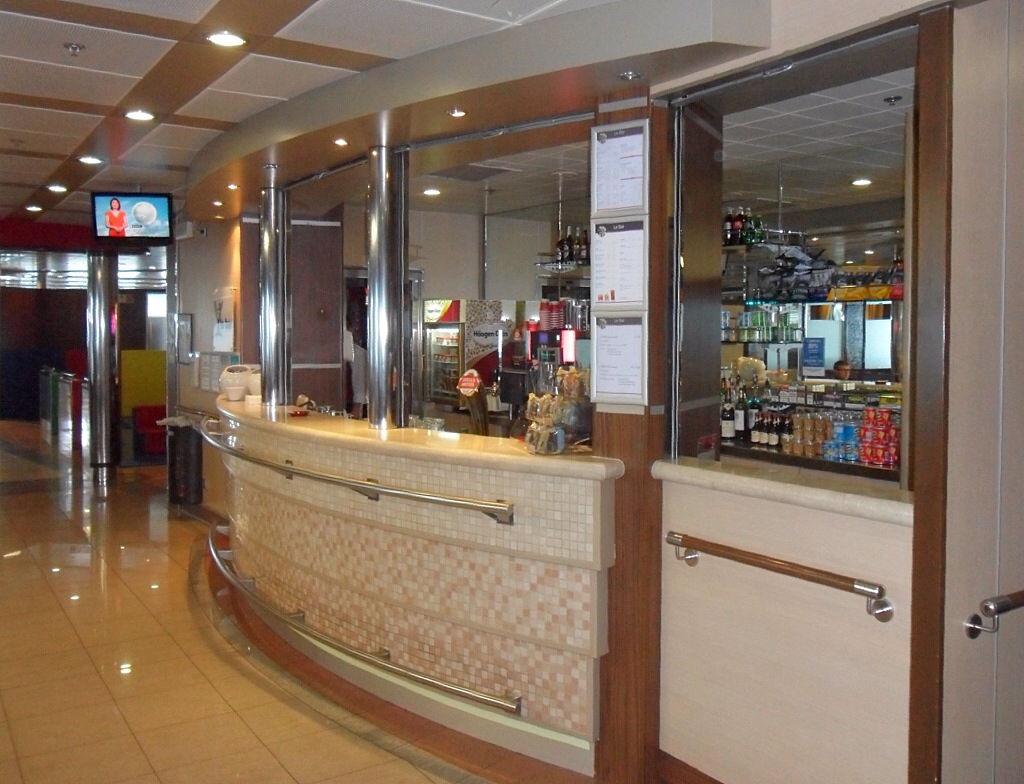 The "economie" experience was not immediately obvious even though I had travelled on the cruise ferries Brittany Ferries operate in the Western Channel. Those who prefer al la carte eateries, bars with a larger selection and even onboard entertainment will be disappointed. If you are content with less choice of shops, bars and restaurants then you will find the Économie service more than adequate. For the budget conscious or those who would like to spend their money on other elements of their holiday there are great savings to be made.
I had expected a maritime version of the budget airlines but it is far from that. Continuing with the aviation industry comparison the Brittany Ferries economie service is more like the difference between travelling economy class instead of business class. However you look at it the service is pretty good for something labelled economy. The usually excellent Brittany Ferries service does not suffer.
Links: Brittany Ferries